Welcome to
Cut and Drop Wholesale Gutter Supply
We are as our name states a "CUT AND DROP" Wholesale Seamless Gutter service providing 5" Residential "K" style, 6" Commercial "K" style, and 6" Half Round (reverse curl version) Seamless Gutters and all accessories needed for proper installation to general contractors, residential /commercial roofing and siding contractors, and DIY Homeowners.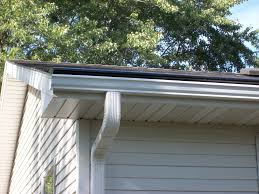 We deliver to your job site same or next day. We are fully stocked with Gloss White other colors listed and copper are special order with short lead time. We only use the thickest aluminum material (.032), all of our machines are capable of running both 16oz. and 20 oz. copper material. If you have a special situation needing something out of the ordinary, feel free to give us a call. We do our best to source specialty items (call for quote, attach a picture of what you have and we can match it up to be sure you get what you want).
We do offer Gutter Installation Services: we refer you to one of our regular customers (contractors in good standing) that is located in your area and fully capable of completing your installation, call for contact information
We are positioning our company for growth, adding to our capabilities such as: additional trucks, machines and profiles as demands present themselves. Call us with any specific requests your company may need now and in the future so we can work with you to offer a solution. We can offer 7" Box, 7" & 8" "K" Style, 8" Half Round (Minimum quantities required along with delivery charges, call for availability)
With all of our new machinery, we are incorporating computer controlled measuring accurate to within 1/8"
CUT AND DROP was founded in 2010 and is now under new ownership since late 2014.